Turning plans into action
A new year brings fresh ideas, new objectives and ambitious plans to deliver over the next 12 months and beyond. We love big ideas and goals and we love turning those plans into impactful actions even more.
Insight = impact
Behind every great implementation plan is a rich source of insight. Whether you're delivering an internal communication, employee engagement or people and culture strategy, equipping yourself with meaningful insight will help you to:
Understand where you are now, where you need to be, and the gap in between
Surface opportunities and spot potential challenges
Get to know your people and what will work for them
Build a business case if you need more budget or resources.
All of this helps to shape your approach and make sure it's fit for purpose to deliver on your objectives.
Gathering meaningful insight
We're surrounded by data that can help us form meaningful insight.

Whether you gather insight in-house or with the help of a third party is totally up to you. The time, resource and budget you have available, as well as if you are objective enough and if your employees will be open and transparent with you, will all be factors in deciding your approach.
How we can help
Sometimes you can benefit from an extra pair of hands and an outsider's perspective to help inform and implement your plan. We tailor our approach at The Culture Club to each individual brief; anything from light touch desktop research and planning to full audit or strategy design and delivery.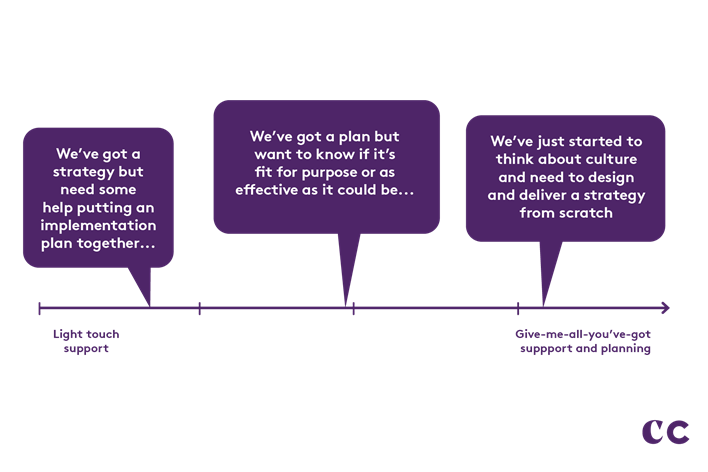 So wherever you fall on the scale, we can help make sure your 2020 plans land and make lasting impact.
Get in touch
If you're looking for some support in turning your plans into action this year, we'd love to help. Get in touch today.