About the Culture Club
The company culture specialists who make better days
We believe that company culture is what sets your organisation apart. It's your heart, your soul, your pulse, your buzz. That's why our team of company culture specialists and experts will work with you to inspire, engage and bring about more brilliance in your people.
Meet the team…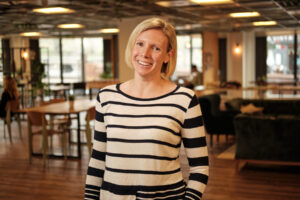 Jodi Speight – Founder & relationship director
A breath of fresh air, full of energy and happiest arm-waving in front of a flip chart, our relationship director Jodi is clear-headed, sharp and bursting with brilliant ideas.
A warm and welcoming people-person, Jodi has an in-depth understanding of people and how to motivate them, which makes her highly in demand with our clients. She's the best possible person to get your people engaged and inspired, loves to fix a problem and will crack on and get the job done – incredibly well!
Jodi doesn't enjoy tea or coffee (but makes up for it in hot chocolate) and can be found most mornings out on a long run.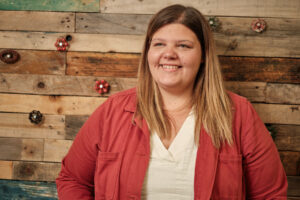 Nikki Burslam – Founder & culture specialist
Nikki knows her stuff when it comes to all things company culture. A geek at heart, you'll often hear Nikki talking about redaction, laddering, and culture mapping, (she's the brains behind The Clubhouse).
Nikki started the Culture Club as a breath of fresh air away from corporate bullsh*t, and clients love her no-nonsense approach to making people and businesses more brilliant. She has a knack for making sense of complicated things, which is impressive… and quietly irritating to the rest of us mere mortals.
Nikki has a phobia of fish, used to be a ten-pin bowler, and was once given a cheque for £4.60 for outstanding academic achievement.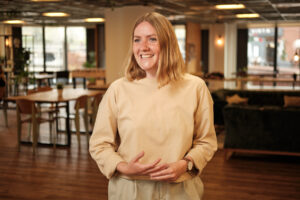 Grace Bush – Client manager
Grace is super bubbly and happiest when she's one step ahead of everyone else (which she always is). She loves to make sure stuff gets sorted and does so with a smile on her face. Basically if you want something done, ask Grace!
Grace loves being part of a team as it's where she's at her best – especially when she can organise minds (and schedules) to deliver awesome work that nails the client brief, on budget and on time.
Another clubber with a passion for food, she even grows her own veg and flowers in her allotment. And when she's not using her green fingers she's out on those twinkle toes, swing dancing.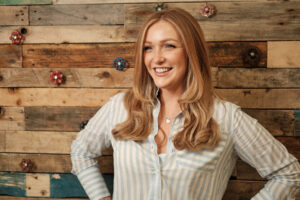 Heather Ratcliffe – Culture specialist
There's nothing Heather loves more than getting stuck into a campaign or event, always managing to inject fun no matter the task.
Don't be fooled by her glam exterior, she may look like the next housewife of Cheshire but she certainly knows her stuff when it comes to culture strategy. Heather is super on it, ready to put clients at ease and talk through the details.
A cocktail extraordinaire who loves to get active (12k a steps a day, minimum!), you'll often find Heather walking in the countryside, up a mountain, or in a Maccy D's with a fillet-o-fish after a night out!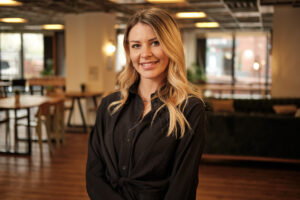 Jess Gregory – Client manager
Our client manager Jess is one of the most organised people you'll meet. A dab hand at getting to the bottom of clients' needs, Jess is a super skilled communicator who has a sharp eye and an even sharper spreadsheet.
Jess keeps it simple (and stylish), giving our clients the confidence and clarity they need. And with plenty of client relationship experience under her belt, they're always in safe hands with Jess.
Nothing would make Jess happier than a pile of kittens and a sweet, sassy cosmo… and getting her hands on the carnage of Nikki's desk.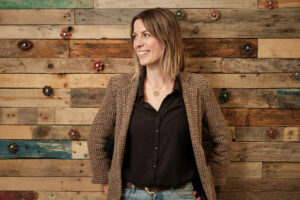 Kirsty Phillips – Head of community & ops
Kirsty is our head of community and operations – and is the source of the methods behind all the madness!
Working mostly behind the scenes, Kirsty makes sure we're set up in the best way possible to do great things with our clubbers, clients and community. An obsessive problem solver and big fan of getting stuff done, she's busy managing our marketing, overseeing The Clubhouse and building our client management team.
When she's not at her desk, you can find her propagating plants, mixing potent cocktails or exploring the latest food spots Bristol has to offer.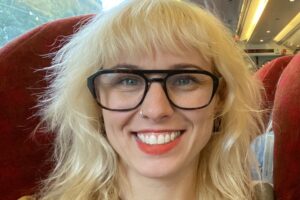 Jodi Venton Harvey – Culture Specialist
If you care about making change happen, you need to meet Jodi (AKA JVH). She is fascinated by people, what they do, and why they do it.
A relentlessly curious and creative mind, she will challenge everything you think you know about yourself, your colleagues and the problems you are trying to solve. She loves nothing more than creating workshops you will immediately want to share with your friends.
JVH constantly brings the energy to everything she does, whether that's singing in a 60's-inspired psych-rock band or out riding a Harley that captures your attention as much as she does.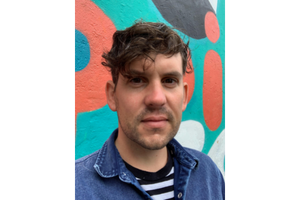 Rich Webster – Creative Director
Rich (AKA 'Cool Rick') has a rare mix of high creative originality, trustworthy instincts and engagement expertise.
Rich knows and practices the art of creative play, whether through conversation, ideas, campaigns or brainstorms. Unafraid to hold up the truth through his work, he is a continual self-reflector and developer himself – making him honest, authentic and brilliant.
Rich will always give you something to think about: whether it's a new angle, insight or provocative truth – be prepared to have your mind changed. When he's not down a rabbit hole of some people-related learning topic, you'll find him cycling around mountains on his bicycle.

Basil – Resident pup
Basil is the Culture Club's resident pup and social butterfly. As Nikki's sidekick and partner in crime, he's a real "people-pupper" and there's not a soul he won't befriend.
He has a penchant for licking ankles and is off the scale on the fluffometer – general consensus is he should be a dog model (next stop, Crufts). Basil responds particularly well to 'chicken', and less so to 'walkies'. He's often seen schmoozing the local residents of SquareWorks Bristol using his alluring, puppy dog eyes as bait to get his favourite treats.
"The Culture Club add value to our team by understanding our business and culture and translating that into engaging content that resonates with people. Also doing that in a way that feels authentic and fun. They are amazing to partner with – great at challenging us and just as invested in the outcome."
Rachel Jaikaran
The Culture Club rules
We're not a fan of strict rules and regulations (we're not that kind of business),
but our five Club rules guide what we do:

1. Keep it simple
2. Know it matters
3. Ask great questions
4. Roll your sleeves up
5. Laugh at least once a day

Clubber careers
Are you passionate about crafting company culture through brilliant employee communication, experience and engagement?
Want to work for the Culture Club?
We're always looking for people to join our team; send us a CV and covering letter to: